Let's get you started with Salesforce
We offer a variety of Salesforce implementations services which ranges from our Quick Starter cloud packages to bespoke custom implementations.
Do you already have Salesforce "out of the box" and are unsure of what to do next?
We can have you up and running fast – within two weeks!
Quick start is perfect for small-medium businesses or non-profit organisations who have Salesforce "out of the box"; or with minimal configurations.
Our Quick start provides the essential features of the cloud of your choice: Sales Cloud, Service Cloud and Non-Profit Cloud.
We will take care to understand your organisational needs and processes, offer you the best quick solution to get you up and running smoothly within weeks.
Salesforce Sales Cloud solution takes automation to new heights.
With an array of cloud-based tools Salesforce Sales Cloud gives your team the power to score more wins, increase productivity, and keep the pipeline filled with solid leads.
Empower your team to sell better, grow your accounts faster and close deals faster.
You get a complete 360° view of all your deals, key contacts, customer and internal communications.
Deal size

+ 15%

Win rate

+ 22%

Lead conversion

+ 30%

Sales productivity

+ 35%

Forecast accuracy

+ 39%
*average improvements reported by Salesforce customers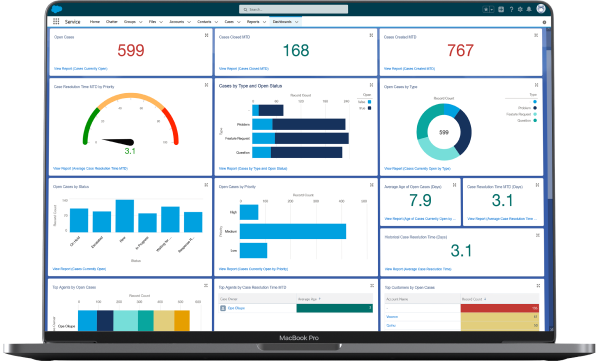 Support Costs

+ 21%

Customer retention

+ 27%

Customer satisfaction

+ 30%

case resolution

+ 33%

Agent productivity

+ 34%
*average improvements reported by Salesforce customers
Make customer service your competitive advantage.
Offer customer service across multiple channels. Resolve cases faster, serve customers better and improve customer satisfaction. Salesforce Service cloud enhances your customer service with more responsive, more intuitive, more flexible support that anticipates customer needs.
Give your customers the support they deserve with faster, smarter service.
Salesforce Non-Profit Cloud
Transform your organisation with Salesforce Nonprofit Success Pack (NPSP).
Salesforce offers 10 user licence subscriptions for free as part of Salesforce Power of Us programme.
Increase in Donor Retention
Increase in Constituent Engagement
Increase in their ability to achieve mission
*average improvements reported by Salesforce customers
Full Offline Access to Your Salesforce Data
Want to remain productive offline?
Look no further.
Resco mobile app brings full offline capability to Salesforce users. Also offering a unique pricing for Nonprofits.